J. Patrick Murphy
Security Expert
Mr. Pat Murphy is a Houston, Texas security expert witness who provides nationwide forensic security expert witness services the areas of premises liability and negligent security. Areas of expertise involve Security Management, Premises Liability, Retail Security, Security Guards, Nightclub Security, Apartment Security and the adequacy of company policy and procedures.  Read about Industry Standards for Security for a better understanding of guidance.  Rideshare companies such as Uber, Lyft, Sidecar, FlyWheel, and others are very vulnerable to litigation from both passengers and drivers.  We can assist with those as well.  He has been retained in excess of 500 cases.
Over 45 years of experience including law enforcement, senior corporate security management, security consulting and expert witness.  Security planning is the result of extensive experience in risk management.  Without knowing the risks a company cannot plan accordingly.  This is why Mr. Murphy is so effective as an expert witness:  personal practices creates the best insight into litigated matters. 
Read Involuntary Employment Separation/Termination Strategies by Sean A. Ahrens.  Employee terminations are stressful even in the best of circumstances.  What is your plan when dealing with a potential hostile employee?  The strategies in this presentation will aide any employer develop a plan to prevent workplace violence during termination.
CRIME MAPPING AND CRIME ANALYSIS

Houston Crime Stats is provided by LPT Security Consulting.  Houston Police Crime statistics create the basis for this 80,000 crime data base and Google Maps.  Search any Houston address for street level crime as well as a one-mile radius.  Full report for download and easy retrieval of stored reports.

Below is a detail crime map that is zoomed in on one address.  The legend represents the full radius.  The Google Map can be widened to view the one-mile radius or moved to see smaller areas with mouse-over details.
Houston Crime Stats creates a report in .pdf with a detailed listing of all crime as well as a static map.  This is an excellent tool for personal injury attorneys, multi-unit retailers, apartment properties and the public.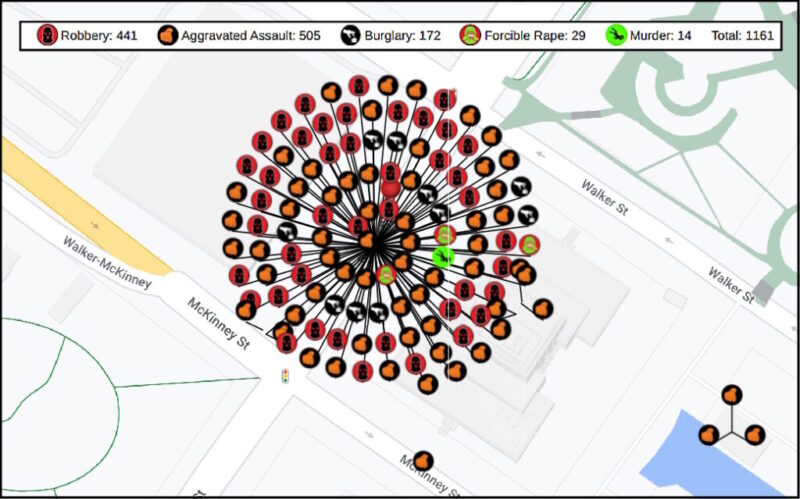 We are in an era where video cameras are in a wild assortment of shapes and sizes.  The "spy camera" industry has just exploded in the past 5 years and the proliferation of adult web sites that cater to hidden camera video has been more than exponential.  With that said, the natural question is why […]
  J. Patrick Murphy provides forensic security expert witness services to plaintiff and defense counsel for litigation involving apartment security expert, security guard security expert, premises security expert, negligent security expert, retail shoplifting security expert witness, bar and nightclub security expert witness. No need to be a security expert today.  Home owners have resources at […]
Introduction I am a security expert witness. I am retained by plaintiff and defense attorneys related to negligent security, inadequate security, physical security measures and a host of others. My job is to assist the attorney with a highly specialized area in an effort to eventually provide testimony about my opinions of the incident at […]