J. Patrick Murphy
Security Expert
Mr. Pat Murphy is a Houston, Texas security expert witness who provides nationwide forensic security expert witness services the areas of premises liability and negligent security. Areas of expertise involve Security Management, Premises Liability, Retail Security, Security Guards, Nightclub Security, Apartment Security and the adequacy of company policy and procedures.  Read about Industry Standards for Security for a better understanding of guidance.  Rideshare companies such as Uber, Lyft, Sidecar, FlyWheel, and others are very vulnerable to litigation from both passengers and drivers.  We can assist with those as well.  He has been retained in excess of 500 cases.
Over 45 years of experience including law enforcement, senior corporate security management, security consulting and expert witness.  Security planning is the result of extensive experience in risk management.  Without knowing the risks a company cannot plan accordingly.  This is why Mr. Murphy is so effective as an expert witness:  personal practices creates the best insight into litigated matters.
Read Involuntary Employment Separation/Termination Strategies by Sean A. Ahrens.  Employee terminations are stressful even in the best of circumstances.  What is your plan when dealing with a potential hostile employee?  The strategies in this presentation will aide any employer develop a plan to prevent workplace violence during termination.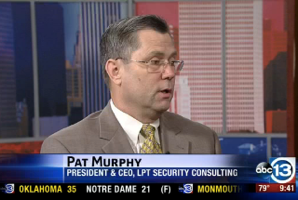 Mr. Murphy has been qualified as a security expert witness across the United States and Puerto Rico.
Recent tragedies around the country have focused attention on workplace violence in the United States. The Census of Fatal Occupational Injuries (CFOI) conducted by the Bureau of Labor Statistics (BLS) provides an annual count of fatal work injuries in the United States, including homicides.  Shootings accounted for 78 percent of all workplace homicides…More
We are experts in creating crime analysis data and maps for use in litigation or for security assessments.  We take the FBI's Uniform Crime Report (UCR) data developed by local law enforcement and turn a glut of data into clear and understandable demonstratives. If you are an attorney or expert who wants data from the […]
Apartment Complex and Gated Communities: It's Not The Name, It's The Function! Security expert witnesses over the past several years have seen an increasing use of Courtesy Officer jobs in apartment properties in an effort to deflect any appearance of having "Security".  This shift has been prompted by the (unfounded) belief that a job title […]